(for English, please scroll to the flags)

Le Carnaval Bijou de Septembre est arrivé ! Ce mois-ci c'est "Quel était votre Chemin Artistique vers le Bijou?"
Pour ceux qui visitent mon blog pour la première fois, chaque mois un tout petit groupe de créateurs indépendents de talent se "réunissent" virtuellement pour faire la fête et partager leurs pensées sur un thème différent. Personne ne connais le poste de l'autre et tous le mettent en ligne le même jour. Pour que vous aussi vous puissiez vous amuser, voici les particiants:

Tonya Davidson
Lorrene Davis
Marco Fleseri
Lora Hart
Elaine Luther
Angela Crispin

It's time for September's Jewelry Carnaval ! This month : "What was your Artistic Path to Jewelry ?"
For those who are new here, every month a small group of talented independent jewelry designers "get together" virtually to party and share their thoughts on different related themes. None of us know what the other will post in advance, and the post has links to the other participants, so you too can enjoy the fun. Links ABOVE.
(vous pouvez aller directement aux photos ;o) car c'est long! )
Ma première expérience "WOW" vers le bijou a été quand, à l'âge de sept ans mes 2 soeurs adolescentes sont rentrées à la maison avec leurs réalisations pendant un stage de fabrication de bijou à Hawaii, à Punahou School (excellente école !!!). Imaginez ! Pas de machines, juste quelques outils et leurs mains ! Les mains de mes propres soeurs ! Si elles pouvaent le faire alors, pourquoi pas moi un jour ? Alors, cela a été notté dans ma liste "possible: à faire !", juste au dessus de la photographie, la passion demon frère. Au même temps, j'ai peint la "Mère Oie" (!) sur ma porte de placard et, comme la réaction général a été indulgente après le choc, une nouvelle possibilité s'est ouverte, mais ça c'est une autre histoire ... Le dessin ci-dessus c'est moi à l'âge de 3-4 ans, dessiné par ma soeur et artiste de talent, Cristina Crispin, qui m'a appris à tenir un crayon et faire du coloriage toujours dans la même direction, sans rayer le papier.

(yes, you can go straight to the photos, since it came out a bit long! ;o) )
My first "WOW" experience ever towards jewelry was when I was seven and 2 of my teenage sisters brought home things they'd made in a jewelry-making workshop at Punahou School in Hawaii (wonderful school!). WOW ! No machines, only a couple of tools and hands ! And my very own sisters' hands ! If they can, maybe so can I ... So it went somewhere on my "to do list of possibles", together with photography which was my brother's thing. Right after that I painted Mother Goose on my massive wooden closet door ... considering family reaction after their shock, another possibility opened up ... but that'll be a later story! (the drawing bellow is a sketch of me at around age 3-4 made by my sister and talented artist, Cristina Crispin, who taught me to hold a pencil and paint with colored pencils, lightly and always in the same direction, without scratching the paper.
Pendant toute mon enfance j'ai suivi diverses cours artistiques pour enfants à la Honolulu Art Academy (gravure, ceramique, peinture, encre de chine, tie-dye, ...). Mon père nous faisait observer tout, les proportions d'un visage, d'une chaise au restaurant, et nous a appris à lire les lèvres car il était sourd d'une oreil. Il se baladait toujours avec stylos et fiches bristol en poche pour dessiner des plans ou faire des croquis. Il était architecte. Il m'a parris a tourner un dessin tête-en-bas pour vérifier s'il était équilibré. De regarder les choses "tête en bas", ou sous un autre angle, pour voir ce que la chose ou situation avait d'autre à nous offrir.
Au lycée, j'ai reçu un diplôme en "Décoration Intérieur" à l'Ecole Mackenzie à Sao Paulo, brésil. J'ai eu les professeurs les plus inspirateurs. Parmi eux, Rubens, notre prof. d'atelier et dessin ! Respect ! Il nous a fait grandir. Il nous a donné l'esprit d'équipe tout en nous apprenant le respect de l'individualité de chacun. Il nous a appris a prendre l'art suffisament au sérieux sans pour autant *se* prendre au sérieux. On devait travailler dur. Nous étions en train d'être préparés pour rentrer dans le monde réel des adultes, ce que certains allaint être obligés de faire directe à la sortie. J'ai appris à dessiner des plans, des perspectives, faire des maquettes, et plus. On devait, par exemple, créer des dessins qui pouvaient se répeter avec rythme pour créer des tapissieries ou papiers peints. Ensuite sculpter les dessin en volume, faire un moulage et le reproduir en plâtre. C'était mon premier contact avec le moulage ! Il nous a appris a dessiner des lettres publicitaires de diverses polices à la main, créer des affiches et plus. J'adorais !! Comme j'adorais aussi le Surréalisme et Salvador Dali à cette époque. J'ai peint une énorme fresque sur le mur de ma chambre, un couché de soleil dans les tons bleus et je me suis amusée à sculpter la pierre savon - ou du moins j'y croyait. Ah, et j'ai gagné des sous en vendant des ceintures faites en corde avec des noeuds style hippie à mes collègues de classe. C'était le début des années 80 et la mousse était à la mode, du moins au Brésil. Alors avec 2 amies de classe ( Elana et Anninha, tudo bem ?) nous avions dessinées toute un tas de bijoux en mousse ! Très drôle !

During my childhood I took a number of art classes for children (engraving, ceramics, india ink, tie-dye... ). My Dad would make us observe everything, from proportions of a face to a chair in a restaurant, and taught us to read lips, since he was deaf of one ear. He'd always have a pen and index cards in his jacket pocket to sketch. He was an architect. He taught me to look at a drawing, or anything, upside down to see if it was balanced. He taught me to look at everything "upside-down", or from a different angle, to see what else an object or a situation had to offer.
I received a high-school degree in "Interior Decorating" from Escola Mackenzie in Sao Paulo. I had the most inspirational teachers, among them, Rubens - "to sir with love !" He made us grow up, gave us a group spirit while respecting each one's individuality. He taught us to take art seriously without taking ourselves seriously. We had to work hard. We were being prepared to enter the real working world because some of us would do just that right after. I learned to draw floor-plans, draw perspectives, make models, and more. For example, we had to create patterns which had to connect and repeat themselves as a tapestry design for wall paper, carve a volume piece of it and reproduce it in plaster - my first contact with casting ! We had to learn to make hand-drawn advertising letter-print, make adverting posters, and much more. I loved every minute ! And I loved Surrealism and Salvador Dali too. I painted an enormous sunset in shades of blue on my bedroom wall, and played with soap-stone. Oh, and made some pocket money selling funky knotted cord belts I'd make to my class-mates. This was the early 80's and colored foam was everywhere, at least in Brazil. So together with 2 friends from school (Elana e Aninha, if you're out there, HI !!!) we drew a number of flashy foam earrings - sooo funny !
Et voilà que je suis à l'Université, en train de suivre des cours de Beaux Arts à FAAP (Faculdade Armando Alvares Penteado) - enfant, je revais d'être peintre, souvennez-vous de la Mère Oie ! Du coup, je faisais des gros tableaux, acrylique, mais surtout astel sec pleins de couleurs qui se fondaient les unes dans les autres. Pendant ce temps, mon cher frère que j'adore, mon jumeaux bien que 5 ans mon ainé et étudiant en architecture, me disait "tu as besoin d'avoir un message (politique, social, etc) dans ton art" (certes, il n'y avait que de la couleur!). Du moins, c'est comme ça que je l'avais compris. Aujourd'hui je le comprends comme "ayant besoin de partager un message commun". Et, dans ce cas, le message était le partage de la pure joie, qui peut être un essage plus subtil ! J'aime encore la couleur ! Voici un très grand pastel en 4 parties. On peut voir les cadres au centre de la photo.

Enters Fine Arts University at FAAP (Faculdade Armando Alvares Penteado) - as a kid I'd always dreamed of being a painter, remember Mother Goose ! So now I was making big paintings, acrylic but mostly a lot of dry pastel full of colors melting into one another. I still loooove color ! My dear brother who I was my "twin" although five years older and an architecture student, kept telling me "it's nice, but you need to have your art have more of a (political/social) statement" (I know, all it had was color! :o) ). At least that's what I understood at the time. Today I see it having to "share a common message", which can be subtle. In this case I was sharing pure joy. This is a very big 4 part pastel. You can see the frames of the individual pieces.
A cette même période, j'ai suivie des cours de croquis de bijoux à Instituto Brasileiro de Gemologia. une de mes profs à l'Université commençait à fabriquer des bijoux et je lui ai demandé de fabriquer quelques un de mes dessins.
Mon chemin créatif a été interrompu, ou du moins il le semblait, quand je suis retournée à Hawaii. Pendant quelques instants j'ai cogité l'idée de continuer mes études en stylisme à l'Université de Hawaii, mais à l'époque le curriculum tournait souvent au tour du Mu-Mu (longue robe à fleurs typique des Îles) et d'ou positionner les fronces et, avec tout le respect que j'ai pour la tradition des Mu-Mu's, c'était pas trop mon truc. C'est là ou le gros vilain monstre des Affairs Internationales/Sciences Politiques m'attendait au tournant. Mais j'ai quand même continué à dessiner et peindre.
Mon frère m'a offert les magiques stylos "Tombo" ! Wow ! Une pointe rigie d'un côté et une pointe "pinceau" de l'autre, sur le même stylo ! Alors j'ai joué avec ça et mes crayons Carand'Ache et dessiné plein de sois-disant "dessins de mode", enrégistrant même une marque. Mon père était un homme patient. Je viens de retrouver quelques un de ces dessins, après plus de 20 ans ! Soyez indulgents, s'il vous plaît ! Et rapellez-vous, c'était en 1986. Puis, les modèles portait des bijoux ! :o) (photos sous traduction en Anglais):

At this same time I took a course in jewelry rendering at the Instituto Brasileiro de Gemologia. One of my fine arts teachers at the University actually started making jewelry and I designed a few pieces she made for me.
My creative path was interrupted, or so it was thought, when I moved back to Hawaii. For a second I thought about entering U. of Hawaii in fashion design, but most of it at the time was still about where to put fringes and flutter on Mu-mu's, with all due respect for Mu-mu's and it's tradition, mind you ... and that's when The International Affairs Boogy-man was waiting for me right around the corner, but I still managed to paint and draw.
My brother gave me a set of magical Tombo pens ! Wow ! Stiff point and brush tip all in one! So I played with that and my Carand'ache pencils a lot and drew some wanna-be fashion drawings, even designing a logo and registering it ! My Dad was a patient man. I just found some of these drawings, after over 20 years ! Please don't be too harsh on me :o). The models were wearing jewelry though ;o) And remember, this was 1986.
Science Politiques/Affaires Internationales m'a au moins permis de me retrouver en France ! YAY ! Où j'ai eu un joli diplôme de The American University of Paris, une excellente école même si moi je revais d'aller à Parson School of Design Paris, liée à l'Université AUP. Et là, diplôme en main, j'ai pris un virage de 180° - le retour vers le future. Au moment de ma remise de diplôme, de la varicelle et d'un marriage à Hawaii - le mien ! - et le tout dans l'espace de moins d'un mois, j'ai décidé qu'il me fallait faire mes propres boucles d'oreilles pour l'occasion. J'ai acheté de la pâte à bois, des perles en plastique imitation naturelles et ils ont vu le jour. (photo sous version anglaise)

Int'l Political Science/International affairs at least got me to France ! YAY !!! Where I finished my lovely degree from The American University of Paris, an excellent school, even if I dreamed of Parson's in Paris, which was connected to AUP. Degree in hand, that's when I and took a 180° turn back to the future. About to graduate, chicken pocks and a wedding in Hawaii, my own that is, all in less than a month's time, I decided I needed to make my own earrings for the occasion. Bought wood-clay, a few plastic imitation pearls and made 'em.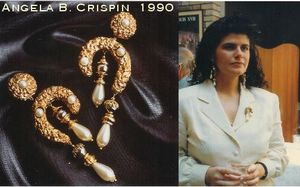 J'ai eu moins de temps, mais il me restait encore de la pâte ,alors j'aen ai encore fait d'autres. Je me suis tellement amusée que j'en ai fait pour offrir à mon témoin et à ma mère. Et voilà ! Je suis rentrée à la maison en France en me disant que la pâte à bois, et bien, c'était pas suffisant. J'ai commencé alors à jouer avec la résine chargée de poudres d'aluminium (!) laiton et cuivre (de la poudre très fine !). Et j'ai commencé à les vendre.

Had less time, more wood-clay, made more. Had so much fun I made to give to my friends and mom at my wedding. And voilà ! Got home thinking wood-clay didn't cut it. Got into resin and charged it with aluminum (!) powder, brass and copper powder (we're talking *really* thin). Started selling.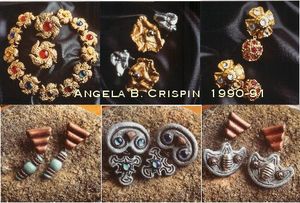 Les cours ont suivis. D'abord Formation HBJO, puis Nicolas Flamel. Je suis partie de la résine vers du fil en spiral soudé ensemble, puis la fabrication:


Started taking classes next. First at Formation BJO then Nicolas Flamel. So I went from resin to soldering spiraled wire together, to fabrication: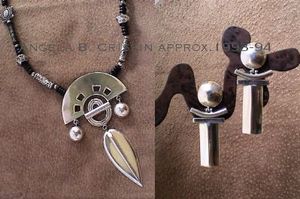 Ensuite de la cire perdue et de l'émail:

then wax carving and enamel:

Il y a environs 7 ans, en attendant que mon atelier soit fini dans notre nouvelle maison, j'ai réalisé des lampes. Celles du haut sont de la hauteur d'un enfant, celles du bas de la taille d'un adulte. Elles sont faites de tubes de cheminée, saldiers, passoirs, poubelles, Opalines vintage, et ressorts de matelas. Elles s'allument tant le haut que le bas. Que la lumière soit ! :

Some 7 or so years ago, while waiting for my studio to be set up in our new house, I made big lamps. The top ones are kids' hight, the bottom ones are adult hight, made out of chimney pipes and salad-bowls, strainers or big waste cans, big vintage opaline shades and matress springs. They light up top and bottom. May there be light! :
Aussi la pâte polymère:

also polymer clay:
Des petites boîtes à bijou en cuir, faites à partir de bobines de rubban et capuchons de lait (et des petits sacs à main en cuir aussi):

little leather jewelry boxes out of old ribbon spools and milk-caps (and funky leather bags too):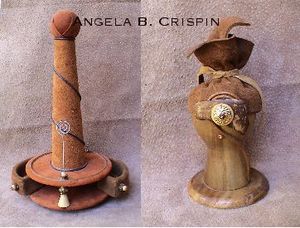 Mais la pâte à métaux précieux a réunit le tout.

But metal clay is what brought it all together.
Pour moi il y a la vie avant et après la France, mon marriage, mes enfants et la pâte à métaux précieux/pâte d'argent. Ah, et la photo digitale puisque j'ai pu faire sortir cela aussi de mon système (souvenez-vous de ma petite liste du départ ! ) en prennant mes propres photos de bijoux par la force des choses. (Seule les photos de bijoux à fond satin noir ici ont étés prises par un photographe dont le nom, 18 ans plus tard, m'échappe. Si vous les reconnaissez, envoyez moi un e-mail!).


To me there's life before and after France, my wedding, my kids and metal clay. Oh, and before and after digital photography since I got that out of my system too (remember my to do list ?!) having to take my own jewelry photos. (except for the black satin background here, which were taken by a young photographer 18 years ago whose name I do not remember - if you read this send me an e-mail !)