(For English please scroll to the flags )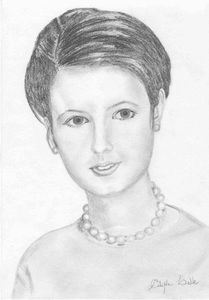 dessin/drawing by Cristina Crispin

Ma soeur aînée, Helena Teresa Crispin, appelée Terry par les amis et famille, est décédée à Sao Paulo, Brésil ce dimanche dernier à l'âge de 59 ans. Ma famille entière été a ses côtés. Je n'ai pas pu les rejoindre. Ceci est une de mes manières de trouver la paix intérieure. J'espère que vous comprendrez.
Terry était une traductrice et interprète multilingue. Son état de santé général était faible. Elle a eu un cancer du sein suivie d'une ablation il y a 5 ans. De plus, les médicaments pris depuis l'opération ont aggravés certaines conditions que nous avons découvert seulement récemment. Bien que ce soit un blog sur les bijoux, j'en ai déjà parlé sur le cancer du sein ici auparavant. Là, j'ai besoin de l'écrire à nouveau car ça me touche. Ça touche notre société, et puis c'est ma manière de transformer tout ça. N'hésitez pas à zapper.

My eldest sister, Helena Teresa Crispin, known by family and Friends as Terry, passed away in Sao Paulo, Brazil on Sunday, November 23rd 2008, at age 59. My whole family was present by her side. I was unable to join them. This is one of my ways of finding inner peace. I hope you will understand.
Terry was a multi-lingual translator and interpreter. Her overall state of health was weak. She had breast cancer and had one breast removed 5 years ago. The medication she was taking following her operation weakened her body and aggravated certain conditions which we only discovered recently.
Although this is essentially a jewelry blog, I have written about breast cancer before, here on my blog. I feel the need to do this again because it affects me right now. Although this is personal, it is also something serious in our society, and because it is my way of transforming this. Please feel free to skip it.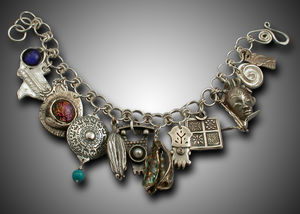 L'été dernier, Holly Gage, Carol Hamilton et d'autres personnes géniales, soutenus avec enthousiasme par la communauté d'artistes travaillant la pâte d'argent, ont organisés une "tombola" pour la charité, "Charms for Charity (C4C)" en mémoire de Robin Whittemore, une artiste en pâte d'argent pleine d'amour et énergie positive. Robin est décédée en 2007, nous laissant tous avec une sensation de que chacun peut faire la différence. Qu'il y a peu de temps pour être triste sur son sort, que chaque goûte d'énergie doit plutôt être utilisé de manière positive et utile. Elle même vivait chacun instant de sa vie dans cette optique. Le C4C a réussi a faire justement cette différence.
This past Summer Holly Gage together with Carol Hamilton and some other wonderful people, all enthusiastically supported by the Metal Clay community, organized a "Charms For Charity (C4C) fund-raiser in memory of Robin Whittemore, a metal clay artist full of positive, loving energy. She was an example to all. She passed away in 2007 leaving us all with that feeling that each one of us can make a difference. That there is little time to be sad for one's self, that every bit of energy should be put to good use. She did this herself to the very end. The C4C fund-raiser made exactly *that* difference.

Des breloques en pâte d'argent ont étés envoyés en donation de partout dans le monde. Plus de 35 bracelets ont étés crées, assemblés par de volontaires et cela jusqu'à la dernière minute sur place pendant la conférence. Chaque bracelet comportait au moins 12 breloques. Chaque bracelet était unique, comme vous pouvez constater sur la photo en haut de page. Plus de 35 bracelets ont étés assemblés ! Certaines des gagnantes étés des survivantes du cancer elles-mêmes. Plus de $12 000 (douze mil dollars) ont étés récoltés pour la recherche sur le Cancer, grâce à la vente de billets de 5 dollars et grâce à tous les volontaires qui les ont vendus ! Le tirage pendant la conférence a rassemblé une foule.
Mes propres breloques ont étés fabriqués avec ma soeur, Terry, et Robin dans mon coeur et dans mon esprit. Un troisième breloque a été rajouté, qui n'est pas en photo, en hommage au cousin de mon mari qui a été récemment opéré d'un cancer. Ces breloques ont étés une petite participation, une goûte d'eau, dans un excellent exemple de ce dont l'être humain est capable, de comment chacun peut faire faire bouger les choses.
Metal Clay charms were donated from around the world. Over 35 bracelets were made, assembled by volunteers til the very last minute, each containing over 12 charms. Each bracelet was unique, as you can see by the photo on the top of this page. More than $12,000 were raised for Cancer research, thanks to the sales of 5 dollar tickets and to all the volunteers who sold them ! Some of the winners were cancer survivors themselves. The drawing at the conference brought together a giant crowd.
My charms were made with both my sister, Terry, and Robin in mind and heart. A third charm, not in the picture, was also sent in to honor my husband's cousin, who was recently operated for Cancer. They were a small participation, drop of water, in a wonderful example of what human beings are capable of at their best, how together we can make things happen.

Ci-dessus le compte-rendu. Vous pouvez cliquer dessus pour le voir en grand.
Tout ça pour dire: allez faire une mammographie. Plus tôt cela est détecté plus les chances de réussite sont grandes. Et, si vous avec l'occasion, soutenez le prochain C4C ! Je mettrai plus d'informations ici le moment venu, ou vous pouvez contacter Holly Gage directement.
A sa propre manière, Terry m'a appris à faire les bons choix qui font que je sois qui je suis aujoud'hui.
Sur mon post précédent à propos de Thanksgiving et gratitude, je rajouterai que je rend grâce à cela, et aussi au fait que ma soeur soit partie en paix, sachant qu'elle n'était pas seule.
Je vais prendre un petit congé du monde virtuel. Je ne sais pas pour combien de temps. C'est justement du temps dont j'ai besoin. Merci pour votre compréhension.
o:-)
Above is a report on the results. You can click on it for a larger image.
All this to say, please go get a check up. The sooner anything is detected the higher are the chances that all will be well. And, if you have a chance, please support the next C4C ! I will post more here when the time comes, or you can contact Holly Gage directly.
In her own particular way, Terry taught me to make the right choices which made me become who I am today.
In relation to my previous post on Thanksgiving and gratitude, I would like to add that am grateful for that. I am also grateful my sister left in peace, knowing she was not alone.
I will be away from the internet for a bit, don't know for how long. I need a bit of time. Thank you for understanding.