(for English, please scroll down to the flag)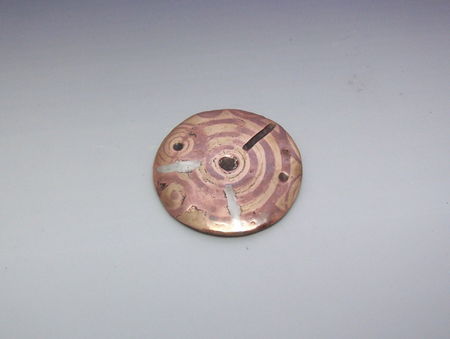 Depuis les testes concluants effectués par Hadar Jacobson quant à la compatibilité de sa Pâte de Cuivre en Poudre et sa Pâte de Bronze en Poudre, et suite aux testes Judi Weers' quant à la compatibilité de la BRONZclay(tm) et la COPPRclay(tm), j'ai voulu voir par moi-même si les deux pâtes de Cuivre et Bronze de marques différentes, contenant des liants différents, étaient compatibles. Les taux de rétractation sont aussi différents, il me semble. J'ai pris comme base la BRONZclay(tm) dans laquelle j'ai fait des incrustations de Copper Clay Powder. Ensuite, j'ai effectuée une cuisson en 3 phases avec des paliers pour les deux pâtes de métaux de base, dans le charbon actif. Une fois cuit, j'ai fait des rainures avec un embout métallique sur mon moteur pour voir la solidité de la fusion des deux métaux et pour tester la fusion interne. J'ai aussi légèrement embouti le medaillon pour voir si ça tenait les coups.
Dans les rainures et les trous j'ai rajouté de la pâte d'argent pour tester si elle était compatible aux deux métaux dans une deuxième cuisson, en sachant qu'il était peu probable, car il y aurait de l'oxydation dessous.

After having seen the successful compatibility tests between Bronze Clay Powder and Copper Clay Powder done by Hadar Jacobson, and Judi Weers' successful tests with BRONZclay(tm) and COPPRclay(tm), I decided to do a bit of testing myself, combining BRONZclay (tm) and Copper Clay Powder to see if the different binders of the two brands were compatible. I believe the two also have slightly different shrinking rates. I started by making a base with BRONZclay(tm) and inlaying the Copper Clay Powder. Then I fired the two base metal clays together with a 3 phase firing schedule and slow ramp. Once fired, I used a motor tool with a grinding bit to make deep grooves in the piece to see how well and deep the two metals fused. I also slightly domed the piece on a doming block to see its resistance. I then added silver clay in the grooves and holes to see if it could be compatible with the two metals during a second firing, although I doubted it due to the oxidation that would occur to them underneath during firing.

Mes conclusions:
La fuison entre la pâte de bronze BRONZclay et la pâte de cuivre Copper Clay Powder est plutôt réussite, comme vous constaterez sur la photo. Les couleurs sont très proches après polissage, alors il faut les patiner pour un contraste plus intéressant. La pâte d'argent rajoutée dans les rainures a mieux tenue là où il y a eu de la pâte liquide dessous, mais dans l'ensemble cela ne donne pas un lien solide si effectué en deuxième cuisson, ne tenant pas à certains endroits au test du bloc à emboutir. D'autres testes suivent.
o:-)



My conclusions:
the two different base metals, once of each brand seem to fuse together nicely, as you can see in the photo above. After firing and polishing the two colors are very similar and need a patina to get a more interesting, rich color contrast. The silver clay in the grooves, where paste was added underneath, stood up better than where the silver clay was simply added without paste. But, all in all, it doesn't really fuse as expected and didn't stand up to the doming test in certain areas. Other tests will follow.

o:-)