(for English please scroll to the flag)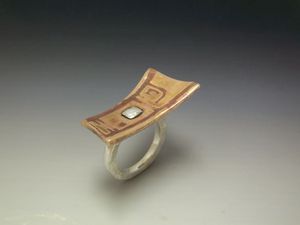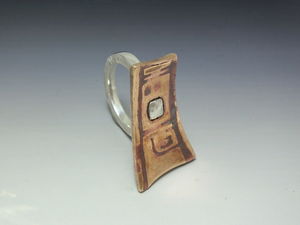 "Tenon" (2009) - BronzClay, Copper Clay Powder, fine silver metal clay

Nous revoilà pour le Carnaval de Bijoux du mois d'avril !Un groupe international de créateurs d'Anglettere, de la France et des USA se réunit chaque 3e vendredi du mois pour réfléchir individuellement sur un thème commun.
Ce mois-ci la question est "Quel est votre technique préferée ?" N'hésitez-pas à voir ce que les autres artistes dans les liens ci-dessous ont à dire !
o:-)

Welcome to the April Jewelry Blog Carnival ! A group of international jewelry designers from England, France and the US get together on the 3rd Friday of every month to individually talk about a specific theme.
This month the question is "What is your favorite technique?". Please visit the links above to see what everyone else has to share.
Artist(e)s:
Lorrene Davis
Tonya Davidson
Marco Fleseri
Tamra Gentry
Lora Hart
Elaine Luther
Angela Crispin (votre serviteur !)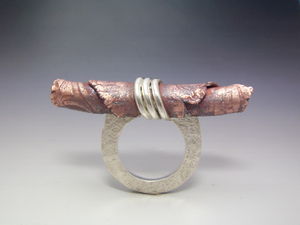 "Spice in Life" (2009) - Copper Clay Powder, fine silver metal clay

Alors, c'est facile ! En ce qui concerne la pâte d'argent, je dirais qu'il y en a deux: la "construction boîte" pour des formes creuse plus structurées, et ma technique d' "Anneau de Bague Sans Joint " qui donne les bagues les plus solides et résistantes en pâte d'argent ! Vous pouvez voir quelques exemples sur les photos.
o:-)


To me, this is an easy one ! As far as metal clay is concerned, I'd say Box Construction and my Seamless Ring Band technique which makes very strong, solid ring-bands in silver clay. You can see some examples in the photos.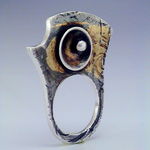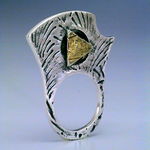 "Pharaon" (2005) Fine silver metal clay, 24K Keum-boo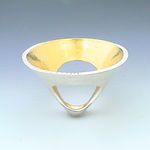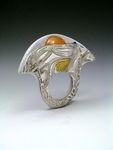 "Oh!" (Oct. 2008) "Rinsing Sun" (2006)
Fine silver metal clay, 24K Keum-boo

Pour ce qui est des techniques traditionelles, je dirais probablement les rivets car ils permettent d'unir presque tout à n'importe quoi. En exemple, il y a la toute première photo en haut de page, ou ma bague "Rising Sun", dernière photo ci-dessus, avec l'opal au centre ou la partie en pâte d'argent a été riveté sur du Faux Bone.
o:-)


As far as traditional metalsmithing techniques go, I'd probably say riveting because it allows one to join almost anything to anything. Examples are the very first photo above, or my Rising Sun ring in the last photo above where metal clay was riveted to Faux Bone.
<!-- ckey="112EDE07" -->