(for English please scroll to the flag)

Bienvenue au Carnaval Bijoux du mois Juin ! Un groupe de créateurs se réunit chaque 3e vendredi du mois pour réfléchir individuellement sur un thème commun.
Ce mois-ci la question est "Quel est le style historique de la bijouterie que vous a le plus influencé ?" N'hésitez-pas à voir ce que les autres artistes dans les liens ci-dessous ont à dire ! (à cause du fuseau-horraire j'affiche par fois mes entrées avant les USA, je vous demande de clicker sur leurs bannières si les sujets ne sont pas à jour)
o:-)

Welcome to the June Jewelry Blog Carnival ! A group of jewelry designers gets together on the 3rd Friday of every month to individually talk about a specific theme.
This month the question is "What is your most influential historical metalsmithing
tradition ?". Please visit the links above to see what everyone else has to share. (because of the time difference I often post mine before the USA, please click on their blog titles if the date is not current)
Artist(e)s:
Lorrene Davis
Tonya Davidson
Marco Fleseri
Tamra Gentry
Lora Hart
Elaine Luther
Tod Pardon
Angela Crispin (votre serviteur !)

Voilà que je suis bloquée ... je n'en vois pas ! Je réfléchit pendany que j'écris. Certains ont une claire influence du passé, d'une époque comme Art Deco, ou un style comme le Celtic, par exemple. Et bien, moi, je ne le vois pas dans mon travail. C'est peut-être par ce que ce n'est pas quelque chose que je cherche de manière consciente. Ou peut-être parce que je suis trop occupée à conduire le vélo, tête au guidon, et que je vois juste la route à faire devant moi et non pas les marques de pneus laissés en chemin. Je ne sais pas.

I'm totally blocked ... I just don't see an answer to this one! I'm thinking while writing this. Some artists have a clear influence from the past, a period like Art Deco, or a style often referred to as Celtic, for example. I personally don't see any of this in my own work. Maybe it's because it's not something I consciously search for. Or maybe it's because I'm simply too busy riding the bike, head on the steering wheel, and I only see the road still to be covered in front of me and not the tire marks left behind me on the way. I don't know.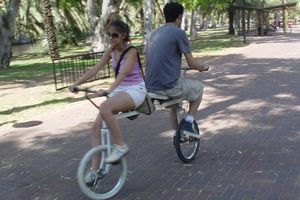 Certains disent que mes bijoux ont un style "éthnies du monde" avec des lignes modernes. Je ne sais pas. Peut-être. Comme vous voyez par les photos ci-dessus, je cherche à trouver une réponse à la question d'aujourd'hui, mais seulement "après coup", ça n'a pas été réfléchit avant ni au moment de faire le bijou.
Je l'ai déjà dit avant, mais ayant grandit à Hawaii, j'adore ce que est tribal, fait avec les moyens de bord, les objets de la nature servant des symboles. Tout ce que je peux dire c'est que ce n'est pas réfléchit, c'est comme ça que ça veut sortir, je ne suis que l'outil.

Some people say that my jewelry has a "world ethnic" feel to it, mixed with modern lines. I don't know. Maybe. As you can see in the pictures below, I'm trying to find the answer to today's question, but only as an afterthought because non of this is planned when I design or make a piece. I know I've said this bfore, but having grown up in Hawaii I love things tribal, made with the materials and object at hand, often from nature and with a symbolic purpose. All I can say is non of it is planned, it's just the way it wants to come out, I'm just a tool.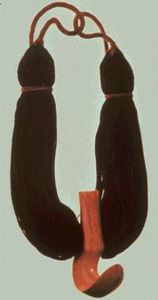 Lei Niho Palaoa- "This prized symbol of chiefly rank in old Hawai'i is made of a carved whale tooth, also known as whale ivory, strung on thick strands of finely braided human hair" (Bishop Museum, HI).

Gugenheim Museum, by Frank Gehry - Bibao, Spain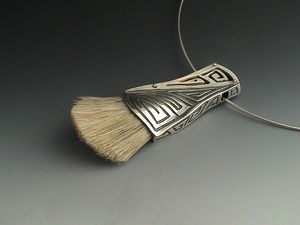 "Now, Paint the Town Red" Metal clay, Faux Bone,
and natural Boar Bristles - 2008

Venant plutôt d'une famille d'architects (mon père, mon frère et ma soeur, et le père de mon mari - oui, ... ah, "Ça Serait le Bonheur" !! ), j'avoue que j'aime l'architecture du 20e siècle, j'aime à la fois ce ce qui est géométrique et ce qui est ergonomique, des deux Franks: de Frank Lloyd-Wright à Frank Gehry. Alors, je crois qu'elle est plutôt là mon influence, s'il y en a une, l'architecture moderne melangé avec mon enfance. Soucouez, soucouez, et ...plouf ! Vous voyez le résultat !

Coming from a family of architects (my father, my brother, my sister and my father-in-law ... I know ... If I had a Hammer ...). I admit I love 20th century architecture, both géometric forms and more ergonomic ones by the two Franks: Frank Lloyd-Wright t Frank Gehry. So I guess I could say that is really where my influence, if any, comes from - modern architecture mixed with my childhood ... shake, shake, shake and ... pop! There you have it !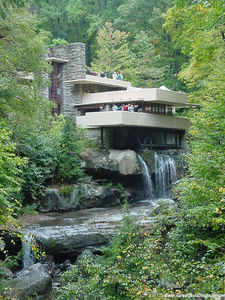 Fallingwater House, Frank Lloyd-Wright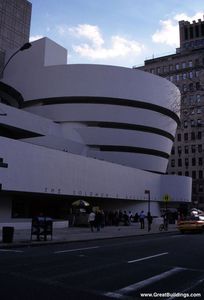 Gugenheim Museum, Frank Lloyd-Wright, NY, USA


Ce sont des ouvres qui font battre mon coeur plus fort chaque fois que je les vois. WAOUW ! Etant plutôt dans le petit, dans le détail, quand je vois des ouvres avec autant de fluidité et détail de cette grandeur, cela me semble incroyable ! C'est énorme de réussir de tels prouesses avec du beton, de l'acier et du verre ... et on peut même circuler à l'intérieur, vous imaginez ?!!!

These materpieces make my heart throb stronger every time I view them. WOW ! Being a person who works in small scale, with small details, it amazes me to see magnitude and fluidity of these structures. It seems gigantic to achieve such prowess with concrete, iron, and glass ... and you can even circulate inside it, can you imagine ?!!!

Gugenheim Museum, by Frank Gehry - Bibao, Spain

Cela dit, bien que mon admiration soit enorme, je n'ai jamais aspirée a être architecte, justement par la taille qui me dépasse, les calcules mathématiques ;o), le besoin de personnes extérieurs en grand chantier, et probablement pour le nombre déjà bien présent pratiquants dans mon entourage ;o) J'aime la proximité que j'ai avec toutes les étapes de fabrication. J'aime le 3D mais en petit, proche de l'être, pouvant lui parler tout les jours, mais aussi le sculptural à taille humaine, dans un jardin, par exemple, où le contact se fait au quotidien.
L'intimité du bijou propose un rapport exceptionnel qui me touche.
Ça doit aussi toucher Gehry, car il crée aussi des bijoux pour Tiffany's:

That said, even if I admire these tremendously, I myself never desired to be an architect probably because the size overwhelms me, because there's math involved ;o), because of the need for an outside team to make it come to life and quite probably because there were already enough of them around me ! :o) I love the proximity that I have will all the different stages of making a piece. I love working in 3D, making something close to the individual, much like a private daily conversation, but I also enjoy human size sculpture like in a garden where there can be some daily contact.
The intimacy and exceptional relationship we makers have through jewelry making is something which touches me.
This might also be Gehry's case, since he also designs jewelry for Tiffany's.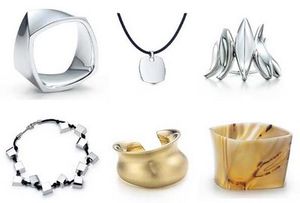 ... Et de penser que cette fois-ci je croyais vraiment que je n'avais rien à dire ! ;o)


... And to think I was sure I had nothing to say this time around ! ;o)