(for English, please scroll down to the flag)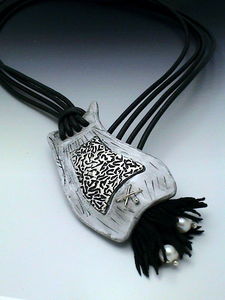 "Gaultier - Hommage à Jean Paul "
Faux Bone, metal clay, leather, pearls
frontal clasp


Bienvenue au Carnaval Bijoux du mois de septembre! Un groupe de créateurs se réunit chaque 3e vendredi du mois pour réfléchir individuellement sur un thème commun. Je vous inivite à lire ce que les autres membres ont à dire en bas de page. Ce mois-ci:

Motivation - Qu'est ce que vous inspire à dessiner ou travailler un bijou ? Qu'est-ce que vous excite assez pour créer un nouvelle article ?
Oh, c'est facile ! Je trouve ma motivation dans toute chose nouvelle qui représente un défi. Une nouvelle technique, une nouvelle matière, un nouveau outil, quelque chose qui peut ne pas representer de l'atrait pour d'autres ou dans le quel il n'y ait pas un potentiel évident au premier abord. J'adooore le potentiel, mais le potentiel pas exprimé c'est du vent, et c'est frustrant. Je l'aime encvore plus quand il est exprimé et partagé. J'adore découvrir des nouvelles routes, de découvrire ce qui peut être fait avec quelque chose en apparence inattendu ou improbable. Ceci explique peut-être mon attraction au pâtes à métaux (improbables avant qu'elles existent, c'est sur), mais aussi avec le Faux Bone dont la valeur aparente ne dit pas tout ce qui peut être fait avec, un peu comme une page blanche pour un écrivain avant qu'elle devient un roman best-seller.

Welcome to the September Jewelry Carnival ! A group of jewelry designers gets together on the 3rd Friday of every month to individually talk about a specific theme. Please visit the other members' blogs the bottom of this page to see what have to say. This month:
Motivation - What's inspiring to you about designing
and working with jewelry? What excites you enough to create a new item ?
Oh, easy ! I find motivation in anything new and challenging. A new technique, a new material, a new tool, something that others may not be attracted to or not see potential in up front. I loooove potential, but unexplored potential it just wind, and that's frustrating. What I like is helping take potential to its expression where it can be fully expressed and shared, be it with a material or in a classroom. I love discovering new roads, finding out what can be done with something apparently unexpected or improbable. This probably explains my attraction to metal clays (improbable before they came out, for sure), but also to Faux Bone - it's face value doesn't tell how much can be done with it, much like a blank page for a writer just there waiting to turn into a best-selling novel.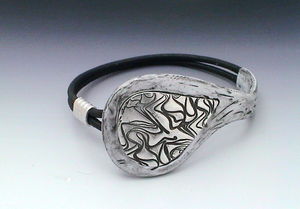 "Tribal Cuff"- Faux Bone, metal clay bracelet - Faux Bone, leather, silver clay - frontal clasp

Dans la vie j'aime bien aller au-dela des apparences et découvrir ce qu'il y a derrier quelque chose ou quelqu'un. J'aime approfondir, découvrir l'arrière-scène des choses pour mieux les comprendre. J'ai besoin de comprendre les choses en profondeur, comme la manière dont les fils à l'intérieur d'une lampe sont mis pour apporter l'éléctricité qui permet à la lampe de s'allumer, comme ça je peux mieux la rendre non seulement belle mais surtout efficace. Et découvrir quelque chose de nouveau c'est un défis qui me plaît ! Je ne suis pas du genre à survoler un sujet et me dire "chouette, j'ai tout compris". On ne peut jamais avoir tout compris, mais on peut faire de son mieux pour bien comprendre beaucoup. C'est souvent un chemin plus long mais qui me permet de transmettre mes connaissances en toute tranquilité d'esprit, de savoir ce que j'ai encore à apprendre et d'être honnete à ce sujet avec moi-même et avec les autres. J'aime excercer l'abilité de regarder les choses d'un angle nouveau et je cherche toujours à trouver ce qu'une chose peut faire d'autre que l'évidence. Comme tourner une poubelle ou un sucrier à l'envers et les transformer en lampe de taille humaine.


In life in general I like to go beyond face value and find out what's behind something or someone. I like going deeper, connecting, discovering the back-stage of things to better understand them. I need to understand things in depth, like how the wiring inside a lamp that makes it light up, that way I can make it not only pretty but can make it work well - things need to work and function properly. Figuring out something new is a challenge I enjoy. Discovery is so cool ! Going beyond the surface too. I'm not the type to fly over something and say "cool, I know it all". You never know it all, but you can do all you can to know a lot. It's a longer road but it allows me to be able to transmit what I know in peace, and to know what I need to learn and be frank about it with myself and with others. I like to exercise the ability to look at things from a different angle and to search what else something can do other than the obvious. Like turning a trash bin or a sugar holder upside-down to make a human-size lamp.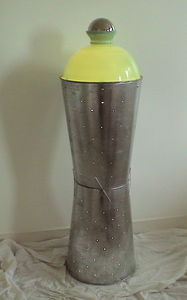 "Light-House" 2002-2003 "See the Light ...House"(human size)

Cela peut par fois être compliqué car on voit plusieurs possibilités, et souvent les 2 faces d'une pièce, ce qui rend la prise de décision par fois, bien, compliquée, mais ça ouvre aussi tant de possibilités excitantes !


It adds to the possibilities, and it can sometimes be complicated because you see so many options, and I often see both sides of a coin so it makes deciding, well, a bit complicated, but it also opens up so many more exciting possibilities!
o:-)
Je vous inivite à lire ce que les autres membre ont à partager:

Please read what the other members have to say:
Angela Crispin o:-)
Tonya Davison
Lorrene Davis
Marco Fleseri
Tamra Gentry
Lora Hart
Elaine Luther