(for English, please scroll down to the flag)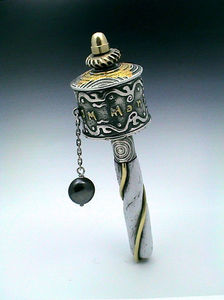 Bienvenue au Carnaval Bijoux du mois d'octobre ! Un groupe de créateurs se réunit chaque 3e vendredi du mois pour réfléchir individuellement sur un thème commun. Je vous inivite à lire ce que les autres membres ont à dire en bas de page.
Ce mois-ci:
De toutes les pièces que vous avez fabriqués à ce jour, laquelle a le plus de signification pour vous et ourquoi ? (pour des raisons de réussite technique, pour sa beauté, pour sa charge émotionnelle ou personnelle, etc).

o:-)



Welcome to the October Jewelry Carnival ! A group of jewelry designers gets together on the 3rd Friday of every month to individually talk about a specific theme. Please visit the other members' blogs the bottom of this page to see what have to say.

This month:
Out of all the pieces you've created, which one means the most to you and why (i.e., technical achievement, most beautiful, personal/emotional significance, etc.)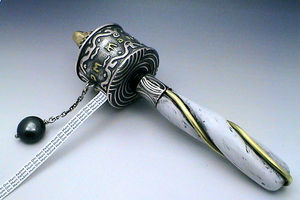 Je dois dire qu'il m'est difficile de choisir juste une pièce car souvent chaque pas que je prends en avant marque pour moi une nouvelle étape intérieur affranchie et que celle qui me plait le plus est la prochaine qui n'est pas encore faite. Mais, si je devais choisir, alors il ne s'agirait pas d'un bijou. Je choisirais mon moulin à prière tibétain, "OM". Pour moi, cet objet résume tout parfaitement. Mon pasé et présent qui se réunissent, ainsi l'esprit et la matière qui s'unissent enfin, matérialisant dans un objet qui a un sens à la fois très profond et personnel mais aussi un objet plus reconnaissable pour les autres avec son propre symbolisme. Il a reçu le 3e prix Small Treasures 2007, UK.
Ce moulin à prières a marqué l'application et réussite d'un certain nombre de défis techniques.
Sa fabrication a représentée un véritable procédé méditatif.
Maintenant et en le tournant, tout se réunit, tout est un.
o:-)

I have to say it's hard to choose one since I feel that each step I take forward marks a new personal achievement and that the one I prefer is often the one I haven't yet made. But if I had to choose, then it would not a piece of jewelry. I'd choose my "OM" prayer wheel. To me, this piece sums up everything. My past and present coming together, spirit and matter, finally uniting to make sense of it all, materializing into a meaningful object both on a very personal level as well as on one more recognizable to others with it's own symbolism. It received the 3rd award in the Small Treasures Competition 2007, UK.
This prayer wheel was filled with successful solutions to a number of technical challenges.
Making it was a meditative process.
It has now all come together, spinning as one.
o:-)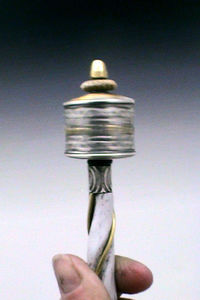 Ce mois-ci nous avons deux nouveaux membres nous rejoindre ! Sortez vos confettis et souhaitez la bienvenue à Vickie Hallmark et Andes Cruz ! Je vous inivite à lire ce que tout les membres ont à partager (cliquez sur le titre de leurs blogs pour la page mise à jour le temps que je puisse mettre à jour mes liens, car j'affiche quelques heures avant eux):

We have 2 new members joining us this month ! Please get out your confetti to welcome Vickie Hallmark and Andes Cruz ! Welcome on board, ladies !
Please read what all our members have to say (please click on their blog title for the last updated entry since I post a few hours ahead, before theirs are up and I can update my links):
Angela Crispin o:-)
Andes Cruz
Tonya Davison
Lorrene Davis
Marco Fleseri
Tamra Gentry
Vickie Hallmark
Lora Hart
Elaine Luther