(for English, please scroll down to the flag)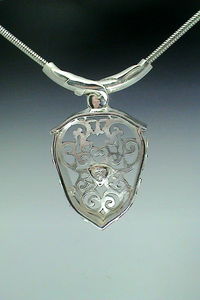 My Heart - 2004


Bienvenue au Carnaval Bijoux du mois de février! Un groupe de créateurs se réunit chaque 3e vendredi du mois pour réfléchir individuellement sur un thème commun. Je vous inivite à lire ce que les autres membres ont à dire en bas de page.
Ce mois-ci:
Quel à été la pièce qui vous a été la plus difficile à réaliser ?
La version française viendra prochainement ... avec toutes mes excuses pour le manque de temps ...

o:-)


Welcome to the February Jewelry Carnival ! A group of jewelry designers gets together on the 3rd Friday of every month to individually talk about a specific theme. Please visit the other members' blogs the bottom of this page to see what have to say.

This month:
What is the most technically difficult piece you've ever made ?
If you read my blog now and then you probably know by now that I love to travel roads unknown to me. Having to search for "the most" of anything is really hard and I'd have to ask "when ?", because once I've done it the piece becomes easy when looking back, and also specially because I'm already looking for a new challenge. Most of my pieces were challenges when I made them. These challenges often involve figuring out the most efficient mechanics and the most efficient way of attaching different materials so they hold together in the most lasting way.
The photo above is an example of a piece I made sometime around 2004. It was the first time I was setting a sawed out sterling sheet and sterling bail into metal clay, setting a CZ in the sterling sheet with a metal clay setting (front and back for mechanical strength), and working mostly in dry metal clay. My first box construction piece, Aztec Memories, was a challenge. It was made in 2004 right after coming home from the 2nd PMC conference and my Rio Rewards class with Barbara Becker Simon. Every single step was dry construction, even the surface decorations. It was also the 2nd piece in which I used Aura 22, the liquid gold which had just been introduced during that conference. It's a reversible piece with a frontal clasp, and all embedded sterling wire. It was complex for me at the time, but it worked because I did it in steps.
Aztec Memories - 2004
Some other examples of this are my "Rising Sun" ring, where I set the Opal vertically in the Faux Bone when Faux Bone was new to me; my Tribal Cuff bracelet using a sawed out and shaped piece of Faux Bone with metal clay details riveted in it; my Prayer Wheel which required the use of Photopolymer plates, a moving barrel and a double twisted Faux Bone handle - made about the same time as the ring. More recent pieces would include my "Fly, No Strings Attached" using an extruder for the first time and getting everything to hold together with strength; or "Paint the Town Red", a carved and irregular shaped box construction with a Faux Bone detail and brush bristles. All of these were challenges which made me move forward.
These pieces can be seen in this album and in this album here on my blog.
Challenges are great motor ! So what are the challenges you set up for yourself that make you progress in your work ?
o:-)

Je vous inivite à lire ce que tout les membres ont à partager (cliquez sur le titre de leurs blogs pour la page mise à jour le temps que je puisse mettre à jour mes liens, car j'affiche quelques heures avant eux):

Please read what all our members have to say (please click on their blog title for the last updated entry since I post a few hours ahead, before theirs are up and I can update my links):
Angela Crispin o:-)
Andes Cruz
Lorrene Davis
Tonya Davison
Marco Fleseri
Tamra Gentry
Lora Hart
Elaine Luther