(for English please scroll down to the flag)

Le Vol.1 numéro 3 de Metal Clay Artist Magazine vient de sortir encore et toujours remplit d'informations utiles, articles intéressants et superbes photos. J'ai eu le plaisir de lire l'interview de Maggie Bergman et de voir le superb pendentif de Lora Hart illustrer un des articles. Voilà deux de mes très bonnes amies qui vivent bien trop loin à mon goût !
Certains de vous le savent déjà que je suis la Liason Européene - France pour cette revue, écrivant des articles bilingues français-anglais pour permettre aux francophones d'avoir le plaisir de découvrir les techniques de la pâte d'argent dans leur propre langue.

Volume 1, Issue of Metal Clay Artist Magazine is now available and we are all now getting used to how wonderfully full of useful tips, information, great articles and useful information. I had the pleasure of reading an interview with Maggie Bergman and seeing Lora Hart's gorgeous pendant illustrating one of the articles ! It's a treat to see 2 of my dearest friends in the same issue, specially since they live much too far away for my taste ! Some of you already know that I am the European Liaison - France for this great magazine, writing bilingual French-English articles to provide the French-speaking public the pleasure of discovering new techniques in their own language.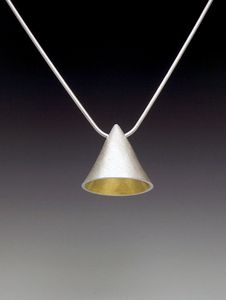 Dans le numéro 1 de MCAM vous avez pu découvrir comment créer une forme en pâte d'argent dans l'article sur ma bague "Oh!Ring!", finaliste du très réputé Saul Bell Design Award 2010 (mise à jour: ma bague a reçu le 2e prix Saul Bell Design Awards pour lequel je suis allée à Las Vegas le recevoir en personne le 5 juin 2010). Pour ce 3e numéro j'ai choisie de partager la suite, ou comment appliquer l'or par la technique Keum-Boo sur une forme cônique. Voici donc ma ligne "Oh!", bague et pendentif assortis. J'espère que l-vous les apprécierez et trouverez d'autres applications originales pour des formes côniques réalisées avec les Linda Kaye-Moses' Doming Plates ! Bientôt je vous montrerez les boucles d'oreilles de la même ligne ici sur mon blog.

In the inaugural issue of MCAM you may have enjoyed learning how to create a cone shape in metal clay as seen in my article on the Oh! Ring, Finalist in the Saul Bell Design Award 2010 (update: my Oh! Ring won second place in the Metal Clay category for which I went to Las Vegas to receive the Award in person June 5th, 2010). For this 3rd issue I chose to share how to apply gold on the inside of a cone shape using the Keum-boo technique. Here are the photos of my Oh! Line, ring and matching pendant. I hope you like them and discover other new and exciting applications for making cone pieces with Linda Kaye-Moses' Doming Plates! I will soon share the matching earrings here on my blog too!