(for English, please scroll down to the flag)
Vache à Bascule ©Marie Le Gargasson Parure "Gaudi" ©Angela B. Crispin
Le 1e et 2 septembre dernier j'ai participé à l'expoistion Solidor des Métiers D'Art à Saint-Malo. C'est une très belle ville en Bretagne, et l'exposition se déroule en bord de mer au pied de la Tour Solidor, un cadre magnifique pour un tel rassemblement d'une cinquantaine artistes et créateurs de qualité tous séléctionnés par un comité assez exigeant. Ce salon est aussi soutenu par les Ateliers D'Art De France. J'ai eu le plaisir de revoir d'autres amis ceramistes comme Marie-Laure Juguet de l'Atelier Terre Libre, l'Armateur Christian Pinault, et Anne Le Lan-Tanguy. J'ai pu aussi rencontrer (et bien rigoler avec!) d'autres artistes comme la ceramiste Julie Carré et ces objets, bijoux et tableaux fleurs, Monique Dupoy et la poetique Marie Le Gargasson et ces sculptures magiques. J'ai aussi découvert un style de mosaïque que je ne connaissait pas avec la mosaiste d'art, Sandrine Morilleau, qui a reçu le titre de meilleure ouvrière de France 2011 avec une reproduction d'un tableau de Giovanni Boldini représentant Henri Rochefort vers 1882. Elle faisait des demonstrations et son travail est assez impressionnant et comporte des sculptures, des tableaux mais aussi de la décoration. Quant à moi, j'ai pu présenter ma nouvelle collection de bijoux en bronze, et bronze et argent qui ont été reçus avec beaucoup d'enthousiasme! J'ai même déjà vendu la parure en photo, le tout premier exemplaire d'une nouvelle collection!
Il a fait beau, les organisateurs nous ont accueillits avec toute leur attention et gentillesse, il y avait du monde, et j'ai vendu ... que demander de plus?! Juste dire: MERCI à tous! (voir les photos ci-dessous).
o:-)
Bagues ©Julie Carré Reproduction en mosaique ©Sandrine Morilleau

This past 1st and 2nd of September I took part in the Solidor des Métiers D'Art in the city of Saint-Malo. This is a very beautiful city on the coast of Brittany, and the exhibition took place by the sea right next to the Solidor Tower. It is really a beautiful setting for an artistic gathering of fifty high quality professional artists selected by a rather demanding jury. This exhibition is also supported by the Ateliers D'Art De France. I had the pleasure of meeting up with friend ceramists like Marie-Laure Juguet l'Atelier Terre Libre (Free Earth Studio), L'Artmateur Christian Pinault, and sculptor and ceramist Anne Le Lan-Tanguy. I was also able to meet (and have a a good laugh!) with other artists such as ceramist Julie Carré and her objects, jewelry and flower hangings. I also couldn't resist and bought a cool mug by my neighbor Monique Dupoy. And met the nicest and poetic Marie Le Gargasson whose sculptures are magic. I also discovered a mosaic style that I was not familiar with by the art mosaicist, Sandrine Morilleau, who received the title of Best Worker in France ("Meilleure Ouvrière de France") in 2011 with a reproduction of a painting by Giovanni Boldini representing Henri Rochefort 1882. She did demonstrations and her work is quite impressive and includes sculptures, paintings but also interior decoration. As for me, I was able to present my new collection of jewelry in bronze, and bronze with silver, which was received with great enthusiasm! I sold the set in the photo below right off my wrist! It's the first piece of a new collection hot out of the studio!

The weather was beautiful, the organizers received us with all their attention and kindness, there were lots of visitors, and I sold my work ... what more could I ask for?! I'd just like to say a big THANK YOU to all!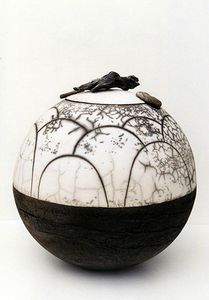 Sphère ©Christian Pinault