Here are some photos of the "Art'in Mobilis Marché de Créateurs" show in artist Catherine Raoulas' studio, a cool industrial setting with hot music specially mixed by a DJ for the occasion, perfectly setting the atmosphere ... Handmade goods, vintage industrial atmosphere and cool music guaranteed ...

Voici quelques photos de l'ambiance industrielle du Marché de Créateurs Art'in Mobilis au Port de Pêche de Lorient, dans l'atelier de Catherine Raoulas, avec de la musique specialement mixé par le DJ dans une atmosphère détendu et branché ... Créations artisanales, atmosphère industrielle vintage et musique branché garantie ...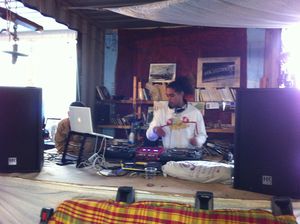 Professional Dj mixing cool music for the occasion and Catherine Raoulas showing kids how to paint with stencils ...

DJ professionnel mixant de la musique pour l'occasion pendant que Catherine Raoulas faisait un atelier peinture avec les enfants ...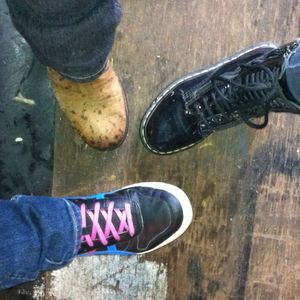 ... can you guess which are my shoes?

... Lequelles sont mes chaussures, avez-vous une idée?
Des photos et tableaux ...

Sneak peek at part of my new collection, "Steel the Show" in black steel and bronze (more later) ...
Un petit aperçu de quelques unes de mes nouvelles bijoux, "Steel the Show" en acier noir et bronze (plus plutard) ...

Wire Jewelry outdoors ... and the Lieu Jaune ...

Des bijoux en fil à l'extérieur ... et le Lieu Jaune ...
Catherine Raoulas' painting/ peintures ...

jewelry by Généviève Sintès ...Pillows and warm bottles by Isabelle ...

Bijoux par Généviève Sintès ... Bouillottes et coussins par Isabelle ...

Photo-paintings ... Photo-Tableaux ...Leather bags by Charlotte

Photos et les sacs en cuir de Charlotte ...


Les sacs Ricochets en toiles de bateaux recyclés de Lauren Beaufils...Les sculptures et tableaux de Gisèle Gueguen ...

Ricochets bags and accessories made from recycled sails by Lauren Beaufils ... sculptures and paintings by Gisèle Gueguen ...

Les sacs de L'Atelier Bidibule ... Les bijoux Eh! Fée Plume de Raphaëlle Salama

Handbags and organisers by L'Atelier Bidibule ... Eh! Fée Plume jewelry by Raphaëlle Salama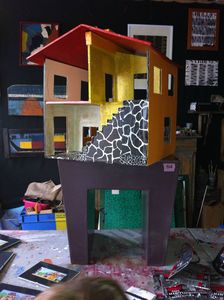 Les illustrations et meubles en carton de Fédérica Scarfi

Illustrations, doll house and cardboard furniture by Fédérica Scarfi

o:-)

!!! Prochain rendez-vous Art'in Mobilis le 6 octobre à la Place Paul Bert, Lorient !!!


!!! Next Art'in Mobilis show on October 6th, Paul Bert Square, Lorient !!!

A bientôt !!! See you soon !!!