(for English please search for the flags)


Le Carnaval Blog de ce mois-ci est "Visite d'Atelier" ! Alors j'ai eu envie de vous servir de guide virtuel. Pour un petit aperçu des ateliers des autres artistes participants, cliquez sur les liens :

This month's Blog Carnival is "Studio Tour" ! I thought I'd play one of those virtual hostesses. To take a peak at the other participating artists' studios, click on the links:
Lora Hart
Elaine Luther
Marco Fleseri
Lorrene Davis
Tamra Gentry
Kirsten Skiles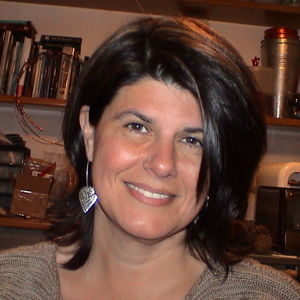 Bienvenue ! A la Visite d'Atelier ! Aujourd'hui je vous guide dans une visite de l'espace où je joue et je travail, ou où je joue à travailler. Nous allons commencer la visite par une vue d'ensemble de mon petit coins de l'Univers que j'aime énormément et qui n'arrive en deuxième uniquement après ma famille (par fois ils diraient le contraire). Il y a néanmoins de petites parties d'eux partout pour inspiration, mais vous ne les verrez pas forcement. A votre gauche c'est mon "espace bureaux" face au jardin, à votre droit mon "espace établis". Dans le fond, des étagères avec les livres de bijoux et encore de l'espace de travail. Posés de bout par terre, et à diverses endroits à l'atelier, mes colonnes de stand et matériel pour les expositions et salons. De l'inspiration sur les murs et étagères, plus des petits mascottes et quelques anges. o:-)

Welcome ! To the Studio Tour. Today I will guide you through my studio where I work and play, or play work. We'll begin our tour with a full picture of my little corner of the universe which I cherish enormously and which comes only second to my family (although they might say differently at times). There are pieces of them scattered everywhere for inspiration, but you won't necessarily see all of these. To your left is my "office space" facing outside, to your right is my "bench space". In the center, bookshelves with jewelry books and more work space. Upright on the floor and in various places, my show material and foldable stands. Inspiration on the walls, plus a few cool mascots and a few angels o:-)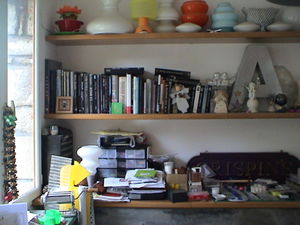 Et bien, je croyais que je ne collectionnais rien, mais oui, je suppose qu'on puisse dire que je collectionne des livres et des anges ... (non, pas des nains de jardin, ça c'est une autre histoire, mais j'ai un mascotte d'atelier pour le prouver ;o)). A droite mes divers petits fours et un Césame 30L.

Well, I thought I didn't collect anything, but I guess you could say I collect books and angels ... (no, not gnomes, that's another story ;o) but I've got a workshop mascot to prove it). To the right my various little ovens and a Cesame 30L.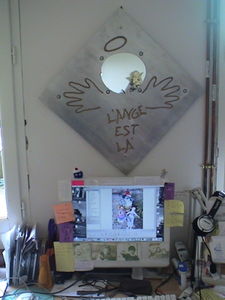 Mon bureau, où je suis en ce moment précis en train de vous guider, bon d'accord, ce n'est pas mon écran ... ooops, comment est-il arrivé là ? Juste au-dessus, mon miroir logo, fait par moi-même, et oui, c'est un modèle déposé. je ne sais pas si vous le voyez, mais il y a le reflet d'un autre petit ange dans le mirroir, c'est celui qui veille sur ma table de travail.

My desk, where I am sitting this exact minute while showing you around, ok, that's not my screen ... hmmm, I wonder how that got there ? Right above it, my mirror logo made by me, and yes, it's my copyright. Don't know if you can see it but I got another angel inside the mirror, this one overlooks my work on my bench.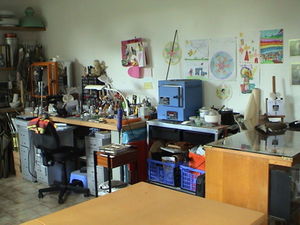 Mon établi à gauche, comme vous pouvez constater je n'ai rien rangé avant la photo ce matin alors je vous épargne une photo de près !


My bench to the left, nope I didn't organize things before the picture this morning, as you can tell, so a global view is best !

Encore des livres. Ahhhh, si on ouvre ses placards ... le bazar !


More books. Oh, if you open those doors ... what a mess !

Pendant un super stage à l'atelier cet été - merci !

During a great class at the studio this summer, thank you !


Inspiration ...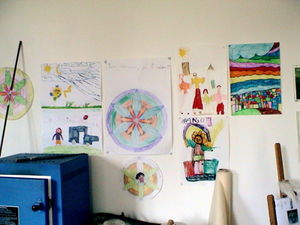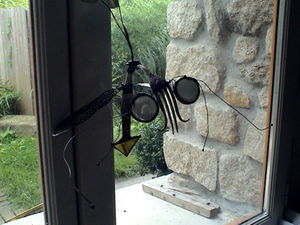 Nouveau mascotte de l'atelier qui m'a été offert par une élève adorable cet été - elle est maître-vitrailleur, Sabine D. Je cherche un prénom pour ce petit hybride sympathique, des suggestions ?

My studio's new mascot given to me this summer by a super fun student who is master stain-glass maker, Sabine D. I'm searching for a name for this hybrid little guy, any suggestions ?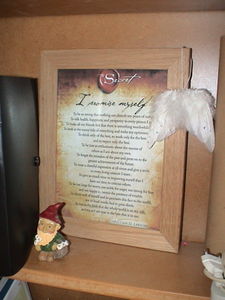 Mon deuxième petit mascotte d'atelier, arrivé aussi cet été pour que je ne me sens pas seule après quelques aventures ... ;o) Merci Sandi Graves !

My other mascot, also arrived this summer so I wouldn't feel lonely ;o) Thanks Sandi Graves !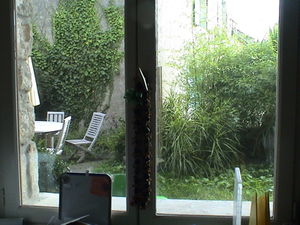 Et dehors, c'est vert et gris. non, je ne parlais pas du ciel, quoique en ce moment on s'y tromperait !

And outside the predominant colors are green and grey. No, I wasn't talking about the sky, although right now you could probably easily think so !

Tom et Bob qui, après une séance à la guillotine (je donnerais pas des noms), attendent une opération ou une nouvelle vie ...


Tom and Bob after a guillotine session (I won't give you names) waiting for an operation or a new life ...

J'espère que vous avez aimé la visite et que vous reviendrez me voir !

I hope you enjoyed the visit and that you'll come back soon !
o:-)