(for English, please scroll to th flag)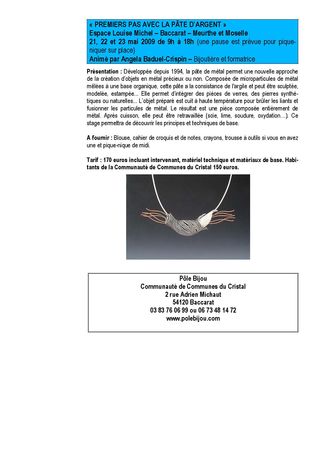 Stage pâte d'argent au Pôle Bijou Baccarat, France du 21 au 23 mai 2009
Du 21 au 23 mai 2009 j'anime le stage "Premiers Pas avec la Pâte d'Argent" au Pôle Bijou Baccarat, France. Cliquez sur la photo pour les détails et tarifs préférentiels. Pour plus d'informations:
http://www.polebijou.com
ou sur le lien "contacter l'auteur" sur la barre de navigation de ce blog.
Ce stage couvre environs 4 projets utilisant la pâte dernière génération à base-rétraction. Les places sont limités à 12 personnes.
D'autres stages sont également proposés tout au long de l'année par des professionels de qualité dans leurs diverses spécialités:
**"Textile Jewelry"
Avril11-13, 2009 avec Dominique Bourquin
**"Premiers Pas avec la Pâte d'Argent"
Mai 21-23, 2009 avec Angela B. Crispin
**"Metal Techniques-Martelage et Surfaces"
Julliet 6-10, 2009 avec Marie Charpentier
**"Metal Techniques - Possibilités d'Assemblage"
Août 17-21, 2009 with Marc Fournier
Pour plus d'informations sur mes cours, vous pouvez visiter mon blog réservé à cet effet.
o:-)

Metalclay workshop in the city of Baccarat, France at the Pôle Bijou Baccarat in May 2009

From the 21st to the 23rd of May I will be teaching "First steps in Metalclay" at the Pôle Bijou Baccarat, France. Please click on the photo for an enlargement and information concerning the special rates for this workshop. For more information:
http://www.polebijou.com
or click on "contacter l'auteur" (contact the author) to send me an e-mail. This class will cover approximately 4 projects using last-generation, low-shrinkage clay. Seats are limited to 12 participants.
Other workshops are being offered throughout the year by highly qualified professionals within their special fields of jewelry-making:
**"Textile Jewelry"
April 11-13, 2009 with Dominique Bourquin
**"First Steps in Metal Clay"
May 21-23, 2009 with Angela B. Crispin
**"Metal Techniques-hammering and surface treatments"
July, 6-10 2009 with Marie Charpentier
**"Metal Techniques - connections"
August 17-21, 2009 with Marc Fournier
For more information on my classes, please visit my special "classes blog".
o:-)